WE ARE THE MTCES VOLUNTEERS!
In 1997, a group of parents in Liberty Township joined together with the dream of providing a Catholic education for their children that was "close to home". These founding families drew inspiration from Mother Teresa, whose death occurred in the midst of their work, to establish a school. In 1998, Mother Teresa Catholic Elementary School opened its doors founded on the volunteer spirit of these families and motivated by the life and example of Mother Teresa. Since then, the school has proudly been known as the MTCES Volunteers. Volunteerism founded our school, and is the cornerstone for its continued success and growth.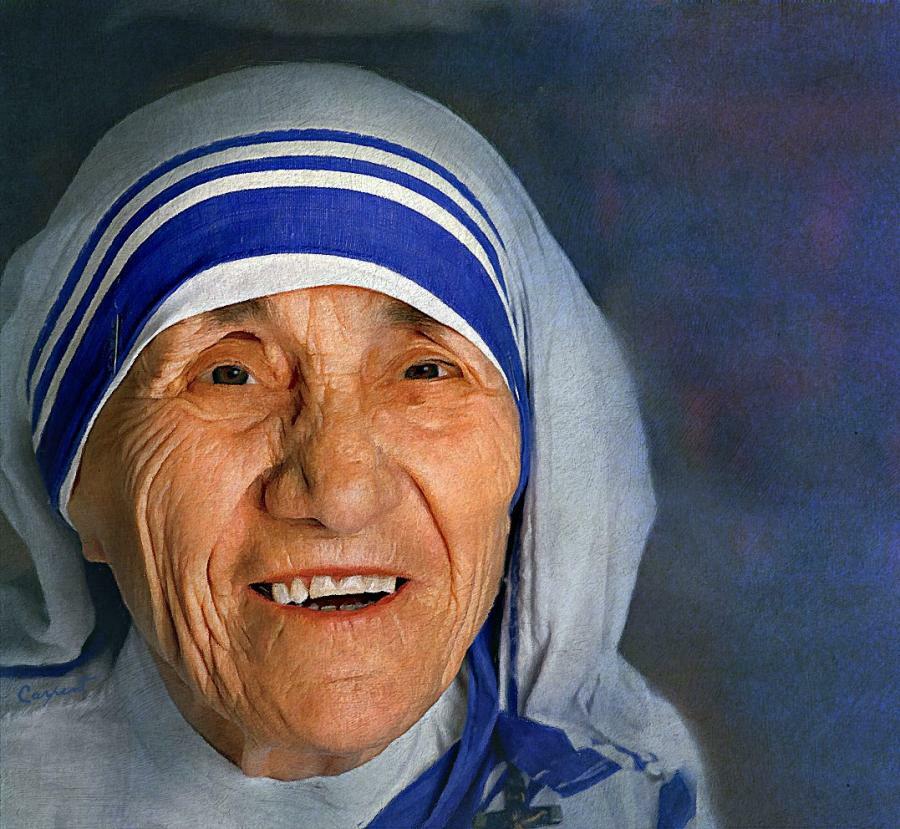 THE LIFE OF
MOTHER TERESA
Mother Teresa dedicated her life to helping the poor, the sick, and the dying around the world, most notably in India. Born Agnes Gonxha Bojaxhiu on August 26th 1910 in Skopje, Yugoslavia, where she had a comfortable childhood. Deciding to become a nun in 1928, she joined the Sisters of Loreto in Dublin Ireland. After several months in Ireland she left to join the Loreto convent in Darjeeling, India. On May 24, 1931, she took the name of "Teresa" in honor of St. Teresa of Avila, a sixteenth-century Spanish nun. In 1948, Pope Pius XII granted Mother Teresa permission to live as an independent nun. After studying nursing for three months, she returned to Calcutta to found the Missionaries of Charity. For her habit she chose a plain white sari with a blue border, and a simple cross pinned to her left shoulder.
In 1971, Pope Paul VI honored Mother Teresa by awarding her the first Pope John XXIII Peace Prize. The following year, the government of India presented her with the Jawaharlal Nehru Award for International Understanding. In 1979, she received the Nobel Peace Prize. Mother Teresa accepted all of these awards on behalf of the poor, using any money that accompanied them to fund her centers. By 1990 over 3,000 nuns belonged to the Missionaries of Charity, running centers in 25 countries. The Blessed Mother Teresa died on September 5, 1997. The beatification of Mother Teresa was conducted Oct. 19, 2003 by Pope John Paul II. She was canonized on September 4, 2016, as Saint Teresa of Calcutta.